Eric Wallace took over as showrunner for CW's The Flash beginning in its sixth season and by doing so, the show changes as his vision starts to take shape.
In particular, the audience is introduced to new, supporting characters that are not directly affiliated with Team Flash, an element which has not been seen in a long time.
One of these characters is Chester P Runk, played by Brandon McKnight.
Remember back in June, it was announced that The Flash was in the process of casting a 'socially awkward African-American scientist'? That would be Chester P. Runk.
The character originates in DC Comics as a supporting character during the Wally West Flash era, as a friend to the titular character.
Thus far in season six, McKnight has played the role in two episodes — "Into The Void" (season premiere) and "Licence to Elongate" (episode 6). His previous credits include 'Friends With Benefits'.
Another new character this season is Allegra Garcia, played by Kayla Compton in three episodes thus far. She, along with Chester, show unique ways to introduce the 'meta of the week'.
Allegra also has her beginnings in DC Comics, specifically Titans which was written by now-showrunner of The Flash, Eric Wallace. It makes sense that he would introduce a character that he created, especially when coming from a comic book background.
Compton's previous credits include 'Entourage', 'Part Timers' and 'Making Moves'.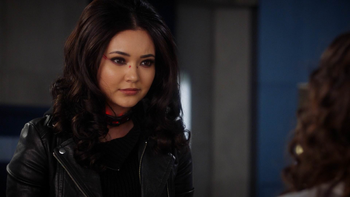 Finally, we have the villainous Ultraviolet – also known as Allegra's cousin, Esperanza Garcia, portrayed by Alexa Barajas in two episodes – 'A Flash Of The Lightning' and 'Licence to Elongate'.
In DC Comics, Esperanza is actually Allegra's adoptive mother, rather than her cousin.
Barajas has also appeared in 'Wayward Pines' and 'Charmed'.
It remains to be seen how many other new faces will be arriving in The Flash during the coming weeks. Especially with the Crisis on Infinite Earths crossover ominously looming in the distance.