Actor Spotlight is a feature in which the career of a singular actor is analysed. We discuss their life, career and the impact they had on their projects.
Spotlight #40 – Aaron Paul (breaking bad, westworld, the path)
Much like his future Breaking Bad co-stars Bryan Cranston and Dean Norris, Aaron Paul had an early appearance on The X-Files, a show that Vince Gilligan, creator of Breaking Bad, worked on.
However, Paul almost had an opportunity to work with Cranston earlier in his career. He auditioned to play 'Francis' on the Fox comedy Malcolm in the Middle, the son of Cranston's character Hal. That role went to Chris Masterson.
Some of Paul's other early roles include guest spots on ER, 3rd Rock From The Sun, CSI: Crime Scene Investigation and an appearance as himself on game show The Price Is Right, with Bob Barker.
2008 was the breakthrough year for Paul's acting career.
He won the role of Jesse Pinkman (originally named 'Marian Dupree') in AMC's Breaking Bad.
Pinkman is a drug dealer recruited by his former chemistry teacher Walter White (Cranston), now dying of cancer, to help him produce crystal meth to ensure his family's security after his death.
The show finished in 2013 after five successful seasons. The overall universe, however, continued with the prequel Better Call Saul, on which Paul has been long-rumoured to make an appearance. '
In August 2019, it was officially confirmed that Paul will be returning to the world of Breaking Bad, but in a Netflix Original film titled El Camino, which, unlike Better Call Saul, is set after the events of the series.
After Breaking Bad ended, Paul appeared in movies including Need for Speed, Eye In The Sky, A Long Way Down and Central Intelligence.
His first big television role was on Hulu's The Path. Paul played Eddie, a convert to a newly established movement. Michelle Monaghan played his wife and the series also starred Hugh Dancy, Rockmond Dunbar, Emma Greenwell, Sarah Jones and Freida Pinto.
The show concluded in 2018 after three seasons.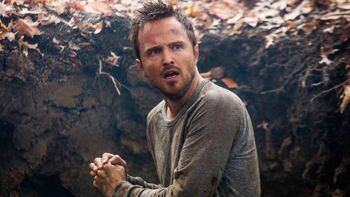 In 2020, Paul will have a leading role in the third season of the HBO science-fiction western series Westworld as Caleb, an individual who forms a relationship with leading character Dolores (Evan Rachel Wood).